Um rechtzeitig von allen Events zu hören, tragt euch (unten) in den Newsletter ein !
oder ihr nehmt uns zu euren Facebook - Likes dazu /
For news on all events subscribe to the newsletter (down below)
or 'like' us on Facebook.
Yoga Workshops / Events / Trainings to be enjoyed :

Weitere Events & Trainings im unsren Räumlichkeiten
Dance, Body & Spirit, Moves & Movements .. :
Yoga Study Group
Thursdays 19:30-21:00
with Kira
Dates:
March Group : 9.3 / 16.3 / 23.3 / 30.3
April/May Group: 20.4 / 27.4 / 4.5 / 11.5
Each Study Group contains 4 sessions, and will focus on a different cluster of Yoga Sutras.
It is not essential to attend both Groups but you are welcome to.
An Invitation:
I would like to invite you to dive deeper with me in the philosophy of yoga through the teachings of the Yoga Sutras of Patanjali. Estimated to have been compiled around 200 BC the Yoga Sutras are a concise collection of 196 aphorisms or Sutras, which discuss the aims and practices of yoga, the causes of human suffering, pathways to freedom from suffering, and finally liberation.
In a small group setting we will flow through the sutras slowly, gaining insights to their deeper meaning along the way. Studying on your own, these Sutras can feel quite dry, heavy and challenging to understand. Through group discussions and sharing of personal reflections and experience, it is my intention to help you embody the Sutras in a light hearted, joyful and very practical way.
This is an interactive group study and your insights are valuable and will make our time together richer and more nourishing. There will be plenty of time for questions, sharing and personal reflection, as this will support the wisdom of the Yoga Sutras to shine through. Over the weeks you will have time then to implement the teachings into your daily life and discover how they can support a wholesome and joyful way of living.
Outline:
We will spend about two thirds of our time discussing philosophy and one third of the time in asana practice. Our sessions will begin with a soft asana practice, followed by an indepth interactive discussion on the Sutra/s to be studied on that day. As the study of yogic philosophy can be quite intense we will finish the session with a short meditation to help you integrate the wisdom of the Sutras into your whole body.
If you are curious about yoga philosophy and wish to study along side me, then I heartfully invite you to join me.
Each Study Group will concentrate on a different cluster of Sutras – so you will gain insight no matter when you join.
Recommended to bring to class:
To support your studies I recommend you buy one of the following translations of the Yoga Sutras of Patanjali:
1) The Secret Power of Yoga - by Nischala Joy Devi (my personal favourite)
German edition: Die verborgene Kraft des Yoga: Eine weibliche Sicht der Yoga-Sutras
2) Demystifying Patanjali , The wisdom of Paramhansa Yogananda – by Swami Kriyananda


3) The Yoga Sutras of Patanjali – by Sri Swami Satchidananda

You may also choose to bring your own copy of another translation to class
Price: Per study group - 120€ Normal / 108€ Members , Students
Min. 5 students / max.10 Students per Study Group
Registration: per email : kjc at yoga-innsbruck.com
YogaTherapie - Bandscheibenvorfall
10.März 17:00 - 19:00 mit Alex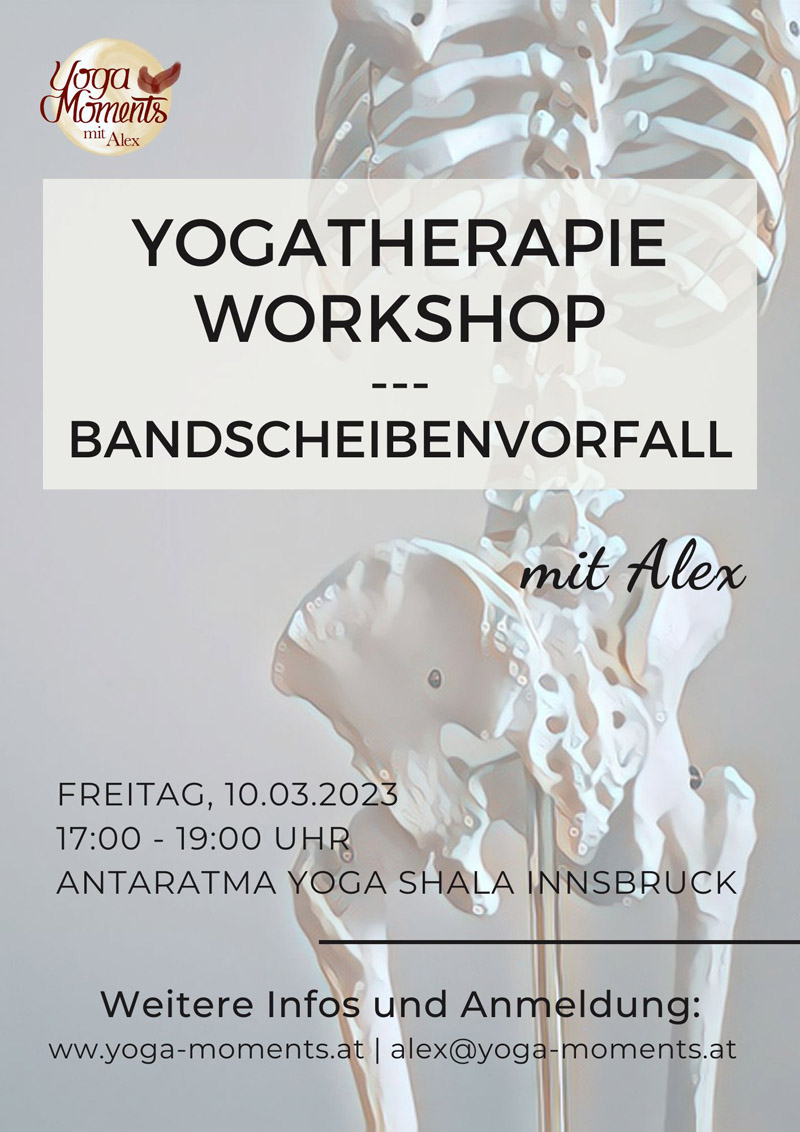 Weitere Infos und Anmeldung -> direkt bei Alex
Weitere Infos und Anmeldung -> direkt bei Alex
Faszien Yoga Workshop - Bündel
Sundays 18:00 - 20:00
with Jade
Faszien sind wie ein elastisches Spannungsnetzwerk. Sie durchdringen den ganzen Körper und umhüllen und verbinden alle Strukturen in unseren Körper, von den kleinsten Strukturen bis hin zu den Muskeln, Organen, Knochen und Gelenke. Bewegen wir uns zu wenig oder immer in den gleichen Mustern, verkleben die Faszien und verlieren an Elastizität. Unbeweglichkeit, Schmerzen und Verspannungen sind die Folge. Die neuesten wissenschaftlichen Erkenntnisse helfen uns, das fasziale Netzwerk in unsere Yogapraxis zu integrieren. Durch Bewegungsabfolgen und gezielte Übungen wie Dehnen, Schwingen, Federn und Rollen werden in diesem Yogastil die verschiedene Faszienbahnen angesprochen und verklebte Faszien gelockert.
TERMINE
29. Jänner 2023
26. Februar 2023
26. März 2023
30. April 2023
21. Mai 2023
25. Juni 2023
jeweils von 18:00 Uhr bis 20:00 Uhr
Already Running :) :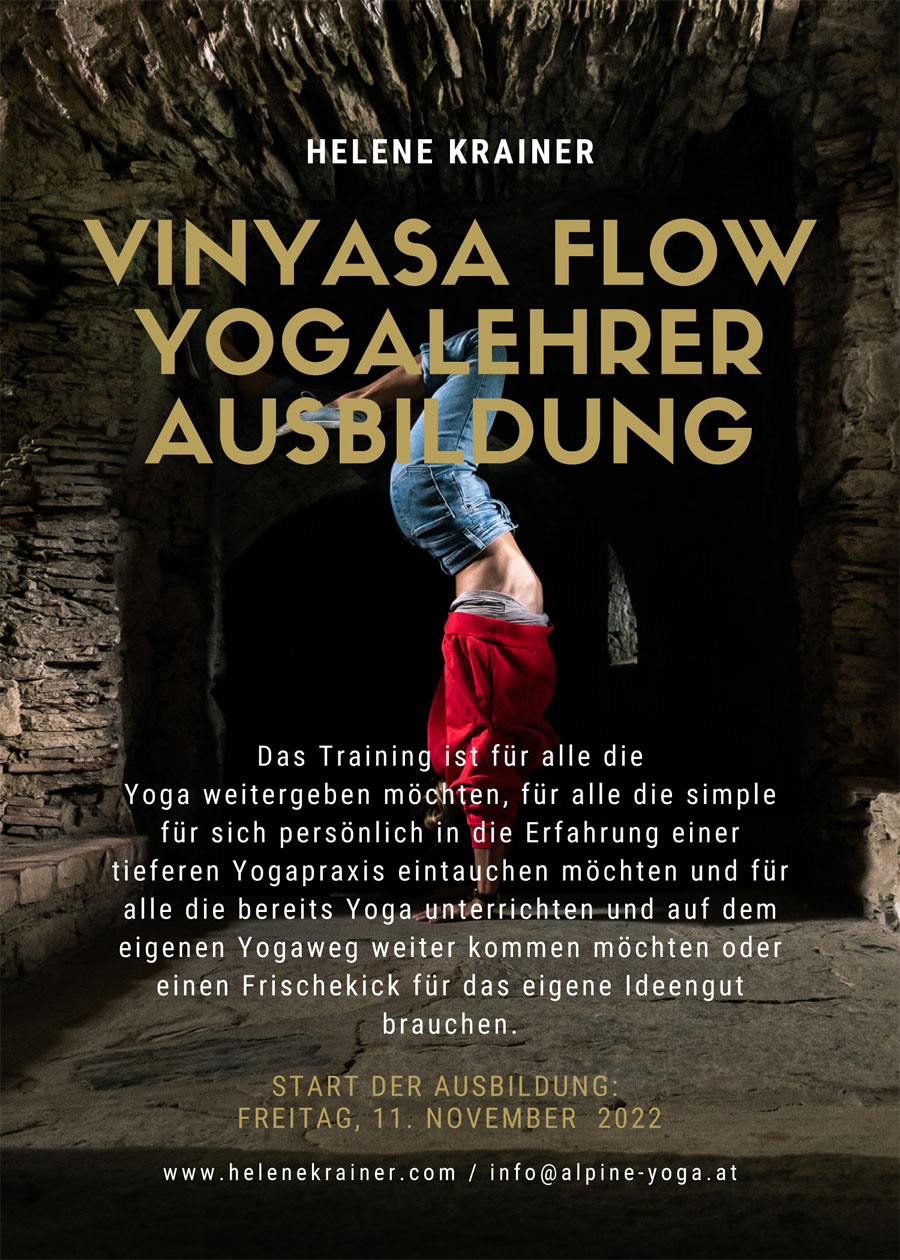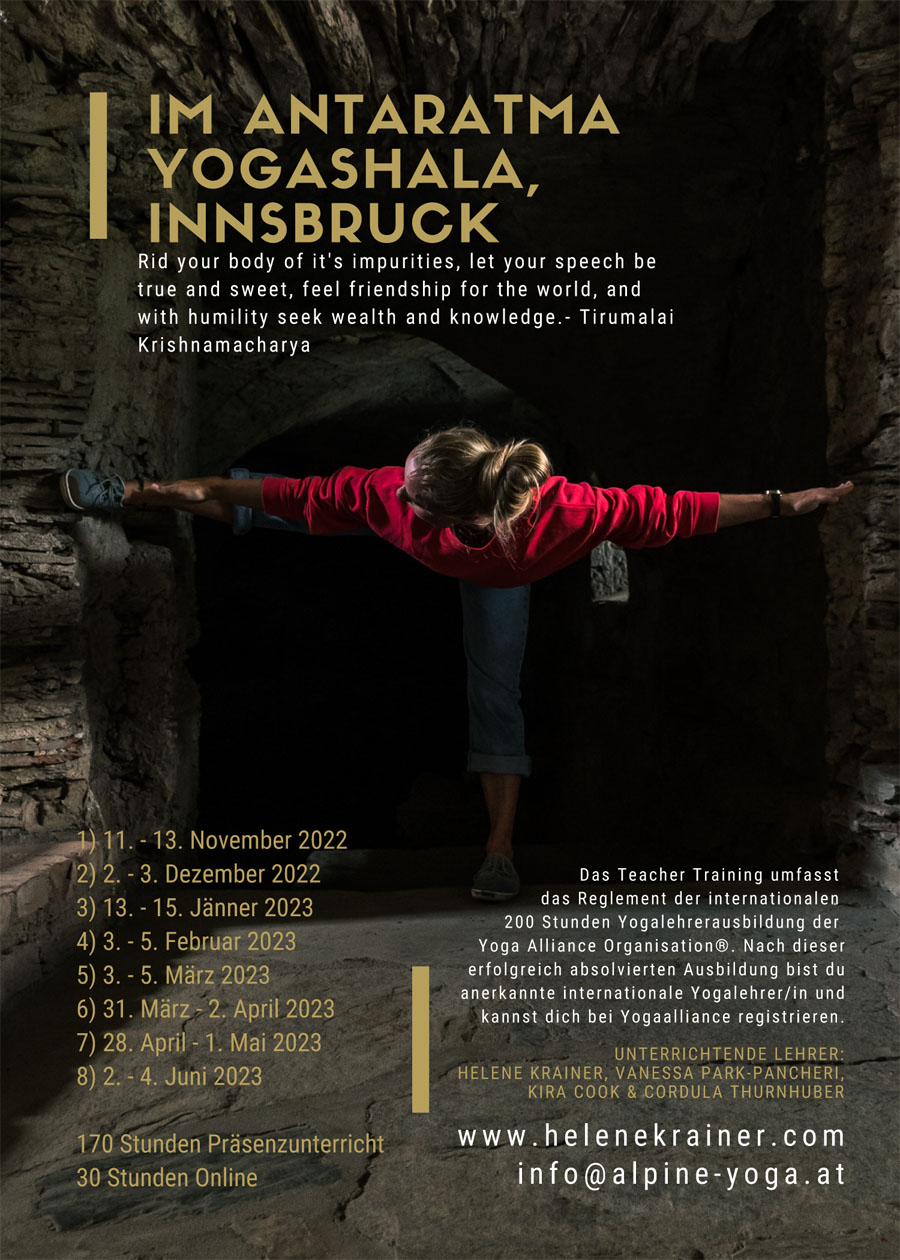 Weitere Events in unsren Räumlichkeiten




Dance, Body & Spirit, Moves & Movements :
Playfight & CACAO-Dance - 11. Feber
mit Danilo, Lisa & Jonathan
✧˚ · . Alle Infos direkt unter www.magiclifeacademy.com / playfight
Last CACAO-Dance - 18. Feber
mit Lisa & Jonathan & Danilo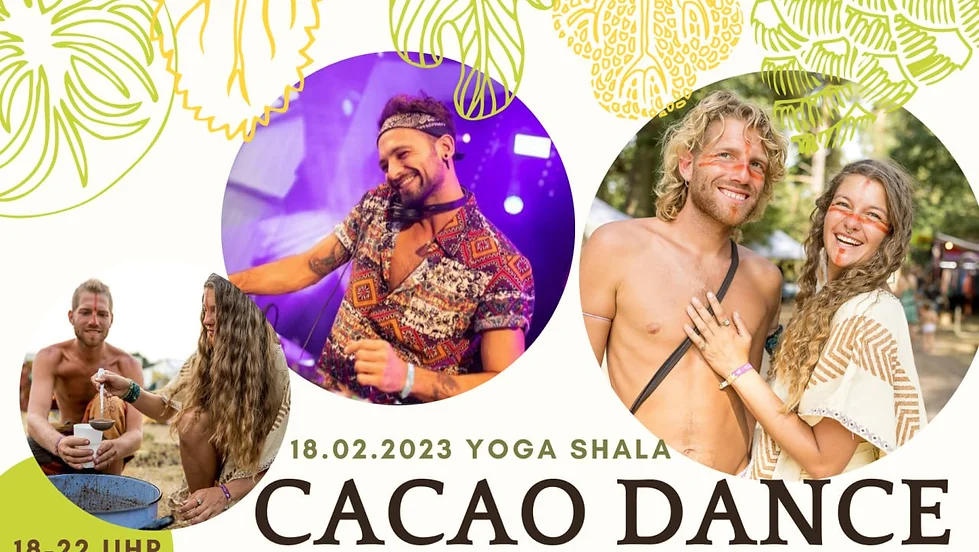 ✧˚ · . Alle Infos direkt unter www.magiclifeacademy.com / last-dance
Details zu weiteren Events & Trainings folgen beizeiten. :)