Um rechtzeitig von allen Events zu hören, tragt euch (unten) in den Newsletter ein !
oder ihr nehmt uns zu euren Facebook - Likes dazu /
For news on all events subscribe to the newsletter (down below)
or 'like' us on Facebook.
Yoga Workshops / Events / Trainings to be enjoyed :
Relativ regelmässig finden auch -> Kurse statt.
Und auch andere Events & Trainings (Dance, Body & Spirit, Moves & Movements) im unsren Räumlichkeiten :
Yoga Study Group
Thursdays 19:30-21:00
with Kira
Dates:
Sept/ Oct. Group: 28.9 / 05.10 / 12.10 / 19.10
Nov. Group: 09.11 / 16.11 / 23.11 / 30.11
Each Study Group contains 4 sessions, and will focus on a different cluster of Yoga Sutras.
It is not essential to attend both Groups but you are welcome to.
An Invitation:
I would like to invite you to dive deeper with me in the philosophy of yoga through the teachings of the Yoga Sutras of Patanjali. Estimated to have been compiled around 200 BC the Yoga Sutras are a concise collection of 196 aphorisms or Sutras, which discuss the aims and practices of yoga, the causes of human suffering, pathways to freedom from suffering, and finally liberation.
In a small group setting we will flow through the sutras slowly, gaining insights to their deeper meaning along the way. Studying on your own, these Sutras can feel quite dry, heavy and challenging to understand. Through group discussions and sharing of personal reflections and experience, it is my intention to help you embody the Sutras in a light hearted, joyful and very practical way.
This is an interactive group study and your insights are valuable and will make our time together richer and more nourishing. There will be plenty of time for questions, sharing and personal reflection, as this will support the wisdom of the Yoga Sutras to shine through. Over the weeks you will have time then to implement the teachings into your daily life and discover how they can support a wholesome and joyful way of living.
Outline:
We will spend about two thirds of our time discussing philosophy and one third of the time in asana practice. Our sessions will begin with a soft asana practice, followed by an indepth interactive discussion on the Sutra/s to be studied on that day. As the study of yogic philosophy can be quite intense we will finish the session with a short meditation to help you integrate the wisdom of the Sutras into your whole body.
If you are curious about yoga philosophy and wish to study along side me, then I heartfully invite you to join me.
Each Study Group will concentrate on a different cluster of Sutras – so you will gain insight no matter when you join.
Recommended to bring to class:
To support your studies I recommend you buy ONE of the following translations of the Yoga Sutras of Patanjali:
1) The Secret Power of Yoga - by Nischala Joy Devi (my personal favourite)
German edition: Die verborgene Kraft des Yoga: Eine weibliche Sicht der Yoga-Sutras
2) Demystifying Patanjali , The wisdom of Paramhansa Yogananda – by Swami Kriyananda


3) The Yoga Sutras of Patanjali – by Sri Swami Satchidananda

You may also choose to bring your own copy of another translation to class
Price: Per study group - 120€ Normal / 108€ Members , Students
Min. 5 students / max.10 Students per Study Group
Registration: per email : kjc at yoga-innsbruck.com
Adapting Vinyasa Yoga for Pregnancy
A Prenatal Yoga teacher training immersion - Module 1
Who this training is for :
Current yoga teachers who would like to know how to support a pregnant woman in case she turns up to your yoga class
If you are interested in pregnancy and yoga in general and would like to learn more
If you are a midwife or doula, currently practice yoga (min. 2 yrs) and are interested to learn about yoga specificially for pregnant women
If you are currently pregnant and wish to learn more, or are already a yoga teacher!
Purpose of the training :
To deepen your understanding of pregnancy and prenatal yoga
To help you feel more comfortable with having a pregnant woman in your yoga class
To give you the skills to welcome a pregnant woman into your class so that she does not feel like an inconvenience
To give you a clear overview which asanas are appropriate for pregnancy
To clarify what asanas are generally inappropriate to practice during pregnancy and why
40 + page workbook
Vinyasa yoga classes adapted for T1-3
Restorative Yoga / Yin Yoga specific adaptations for pregnancy
Prenatal adaptations for classic Surya Namaskars
The Mandala of prenatal yoga asanas
Pranayama, mudras, poetry and visualisations for pregnancy
The advantages/disadvantages of attending a prenatal specific yoga classes Vs Attending an open yoga class
Appropriate and Inappropriate practices during pregnancy
A brief outline of each trimester and what is important to know for attendance in an open yoga class
Sat. 4 Nov. 2023 : 13-18:30
Sun. 05 Nov. 2023 : 9 - 13:00
9,5 contact hours :187€ , early bird 175€ with registration and payment by 29 Sept.2023
Registration & further information per email :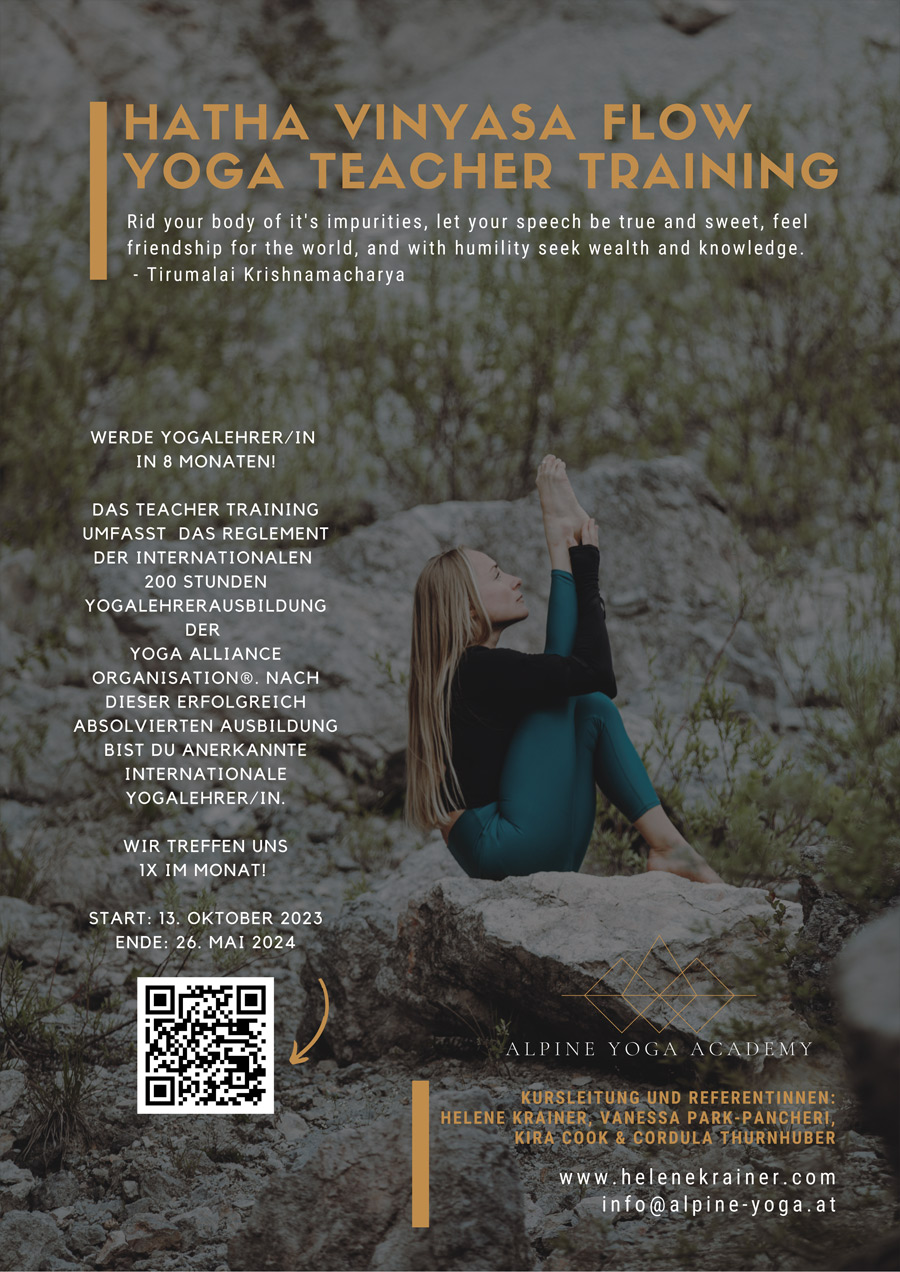 Die Zeit ist reif für eine Ausbildung, die in die Tiefen eintaucht,
die nicht nur an der Oberfläche kratzt!
6 Tage an denen du die Möglichkeit hast Mantren, Philosophie, dein Dharma (deinen Lebenssinn), die Baghavad Gita und vieles mehr neu kennen zu lernen!
Denn die Art, wie Yoga heutzutage meist praktiziert wird, ist nicht nachhaltig genug - lernen wir jedoch die Pranische Methodik näher kennen, können wir unsere Praxis intelligent gestalten und einen lang anhaltendem Effekt schaffen, der sich auf alle Bereiche des Lebens auswirken wird.
Du wirst zu einem stabileren, verlässlicheren, freudvolleren, nicht-reaktiven Menschen, der in seiner vollen Fülle steht!
100% der Lehren des Trainingsinhalt wurden seit Jahrtausenden nach Parampara (von einem zum anderen) von Yogi an Yogi weitergegeben
& NUN HABEN SIE IHREN WEG ZU DIR GEFUNDEN!
Die Tantra Yoga Ausbildung ist genau das richtige für dich, wenn du...
deine Yogapraxis & Meditation auf das nächste Level bringen möchtest
dich mit deinem Lebenssinn und wie du in manifestieren kannst, auseinandersetzen willst
dein Prana/deinen Energiehaushalt besser kennen und steuern lernen möchtest
das entmystifizierte Wissen hinter der Chakrenlehre kennen und nutzen möchtest
eine Methodik erlernen willst, nach der du auch zu Hause praktizieren kannst
die Philosophie hinter Yoga (er)leben möchtest

Diese Ausbildung ist nichts für dich, wenn du
sexuelle Praktiken erlernen willst
"tantra"massage erlernen willst
einen Einblick in schwarze Magie erhalten willst
sinneserweiternde Substanzen innerhalb eines Rituals einnehmen willst
KURSINHALT
Philosophie und Methodik (Yogapraxis) sind gleichermaßen wichtig in der tantrischen Lehre,deshalb werden wir unseren Fokus in der Tantra Yoga Ausbildung auch gleichermaßen auf beide Bereiche legen.
Tantra Methodik :

Tantrische Schlüsselpraktiken &Unterrichtsmethodik
Vinyasa Krama(Asana, Pranayama, Mantren, Bandhas,...)
Die Praxis und Kraft vonMond, Sonne & Feuer
Tantra Philosophie :
Umgang mitPranafür Empowerment, Selbstheilung und Intuition
Ayurveda
DieBaghavad Gita
Samkhya Philosophie & Introspektion
ChakrenLehre
Numerologie& die Kraft der Zyklen
ImRahmen der Ausbildung erhältst du einSkriptummit allen Inhalten, um sie auch später noch nachblättern zu könne. 1 Monat vor und nach dem Kurs kannst du kostenlos Teil eines Telegram Containers sein, indem sich gemeinsam über Erlebtes ausgetauscht werden kann, soll & darf!

Neben all diesen tollen Themen wird in der Ausbildung auch Zeit für Rituale und Zeremonien sein.
Unter anderem erwarten dich ein Klangbad, eine Einführung in Yoga Nidra,eine Sacred Cacao Zeremonie & Extatic Dance.
Energieausgleich für die 6-tägige Ausbildung :
BASIC PACKAGE :
enthält 6 Tage Intensivtraining und ein 180 seitiges Manual,
sowie einen online Gruppencall 6 Wochen nach Kursende
auch die Raummiete für das herrliche Yogashala ist inkludiert
Early Bird 987,-- bis 14. 08.2023 danach 1.111,--
PREMIUM PACKAGE
Early Bird 1577,-- danach 1688,--
enthält zusätzlich 3 x 1:1 Coaching Sessions bei denen wir aufkommende Themenund die Hürden des Anfangs gemeinsam ansehen und weiterarbeiten
LOCATION
Die Ausbildung wird an 3 Wochenenden in derAntaratma Yogashala Innsbruckstattfinden.
AUSBILDUNGSWOCHENENDEN
2 + 3 Dezember 2023
20 + 21 Januar 2024
17 + 18 Februar 2024
Dieses Angebot richtet sich an jede(n), der seine Yogapraxis auf das nächste Level bringen und sein Verständnis für Körper und Geist vertiefen möchte. Primär geht es darum das gelernte nach dem Kurs selbst anwenden und in seinem Alltag integrieren zu können.
Solltest du selbst Yogalehrer*in sein, bist du nach diesem Intensivkurs in der Lage, dein Wissen an deine Schüler*innen weiterzugeben und sie auf auf ihrem Weg zu einer fundierten Praxis zu begleiten.
Es ist von Vorteil, wenn du schon eine regelmäßige Yoga- und Meditationspraxis pflegst - als Basis für diese Fortbildung.

BONUS
Meine Vision ist es, diese Lehre unter so vielen Menschen wie möglich zu bringen, darum hab ich einen100€ Bonusfür dich, wenn du jemanden mit in die Ausbildung bringt, der/dem diese Lehre ebenso dient.
Ich freue mich von Herzen auf dich und bin so stolz, dass den Mut hast, dein Leben in die Hand zu nehmen und eine Investition in dich selbst tätigst!
Melde dich mit Fragen/deiner Anmeldung unter uzi2503@gmail.com bei mir.
Yin Yoga & Anatomie Lehrerausbildung
mit Alex -
2 Module á 50 stunden, Feber - März 2024 & April 2024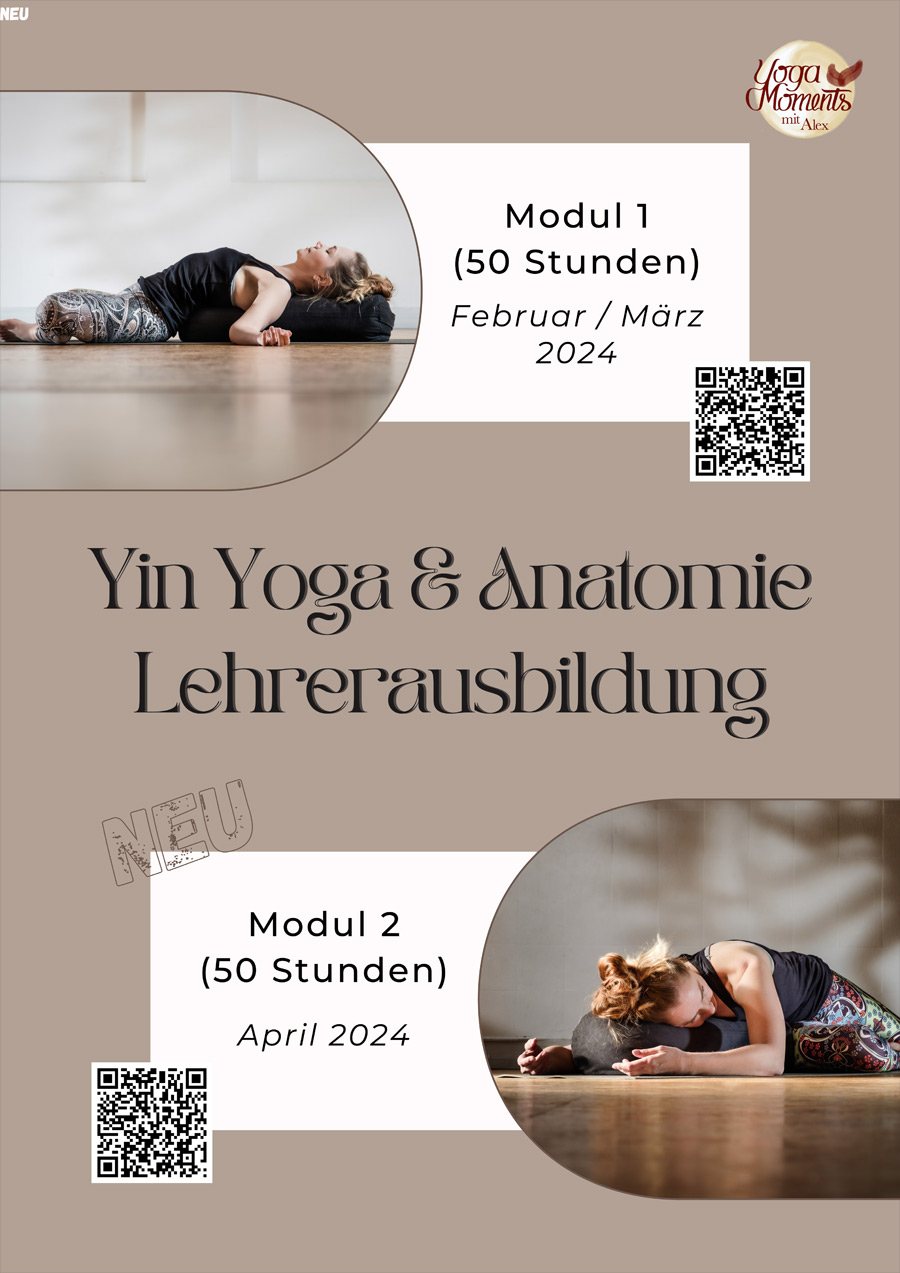 weitere Infos und Anmeldung direkt bei Alex :


-> Modul I

und

-> Modul II
Weitere Events in unsren Räumlichkeiten




Dance, Body & Spirit, Moves & Movements :
Details zu weiteren Events & Trainings folgen beizeiten. :)